Should You Rent or Buy a Knee Scooter
Knee scooters, also known as knee walkers, serve as a great alternative to crutches as a mobility aid after an orthopedic injury, surgery, or recovery period. The ergonomic design of knee scooters provides users with a comfortable and stable means of mobility while also minimizing the movement of an injury. Ask any foot doctor and orthopedic surgeon and they'll tell you they vastly prefer their patients to use knee scooters instead of crutches to minimize the risk of reinjury. Knee Scooters serve as a safe and convenient mobility aid as opposed to the risks and discomfort involved with using crutches.
So yes, knee scooters would be the most beneficial and comfortable alternative to crutches. That brings us to the overarching question:
Should I R
ent or Buy a Knee Scooter

?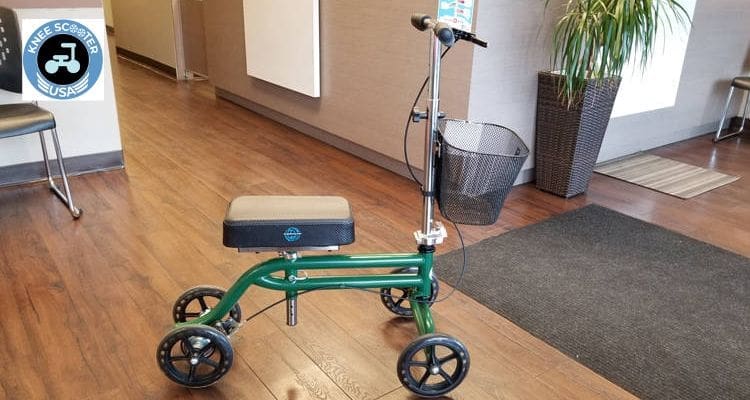 After an orthopedic or ankle injury, extensive costs are probably one of the last things you'd like to be thinking about during your recovery process. On top of medical bills and time off from work, buying a knee scooter can range from $150 to $400. Renting one from a local medical supply store will normally cost you $100 a month plus a $100 deposit fee which means you'll need to fork over $200 upfront to get a knee scooter.
In this blog, we will discuss the topic of whether to rent or buy a knee scooter.
Suggested read: Should I Really Buy a Knee Scooter on Amazon?
In determining whether you should rent or buy a knee scooter, you should probably consider these other questions:
Questions You Should Ask
How long did your doctor say you will need to keep weight off of your foot or ankle?
Do you have local medical supply companies in your area that carry knee scooters?
Are they in stock right now or will they be in stock by your surgery date?
Do local medical supply companies only sell knee scooters, rent knee scooters, or both?
What are their prices when comparing rent or buy a knee scooter?
How much of a deposit will you need to put down?
Are you willing to shop around for better deals that will require multiple phone calls?
If you cannot buy locally you can always buy online but are you willing to wait 4-7 days for the knee scooter to arrive?
If you buy a knee scooter do you plan to store it or resell it when you're finished using it (typically 5 weeks)?
If you plan to resell it are you aware that resell values are typically 50% of new prices and it may take you months to resell it for a loss?
Buying a knee scooter can come with additional concerns that revolve around the question of what to do with it when you don't need it anymore. While many would keep it in storage for later use or re-sell it at some point, the possibility of using it again or getting back the money you spent buying it can be very slim. Also, if you have an injury and need a knee scooter quickly, if you buy one online you should expect it to take 4-7 days before it arrives. Then you'll need to unpack it and assemble it, on one leg, without hurting your existing injury.
A Better Solution
KneeScooterUSA.Com founder Rob Urban encountered these challenges after sustaining a broken ankle in 2018 and came up with an affordable solution to help those who have faced difficulties with acquiring a Knee Scooter. After being unable to find an affordable rental or used knee scooter within driving distance, he decided to order a cheap one on Amazon for $150 and have it delivered to his home. By the time he received his knee scooter, he realized he only needed it for 3 weeks and then took a 50% loss as he tried to re-sell it once he recovered.
To prevent others from facing the same circumstances, Knee Scooter USA eliminates a huge portion of the costs associated with knee scooter rental while providing options for standard knee scooters and all-terrain knee scooters. For a standard knee scooter, Knee Scooter USA charges $40 for the first 4 weeks, while the all-terrain knee scooters are priced at $60 for the first 4 weeks. No deposit is required and after you choose and reserve your knee scooter model online you can pick it up immediately – pre-assembled, sterilized, and ready for use. The total costs and convenience associated with renting a knee scooter from Knee Scooter USA greatly outweigh the overall cost of buying or renting from another company all while providing a hassle-free, convenient experience for customers during their recovery process.